Dancing with Currents
Buoyed and suspended in the ocean, marine plants sway and undulate, quiver and dance in the path of ocean currents. The seven multi-axis, twisted, undulating turned 'plants' of this kinetic sculpture are suspended on single steel wires. An embedded mechanism in the base produces their continuous movement. Their slow subtle swaying and quivering illustrates their dancing with currents, their invisible partner. Glimpses of this movement can be seen on Youtube at http://www.youtube.com/user/RPRkinetics This idea popped into mind several weeks ago and the technical and aesthetic challenges were intriguing. Not sure I arrived at where I thought I was going, but here is where I have ended up. :-) Any and all reactions, impressions, suggestions, critiques certainly welcome.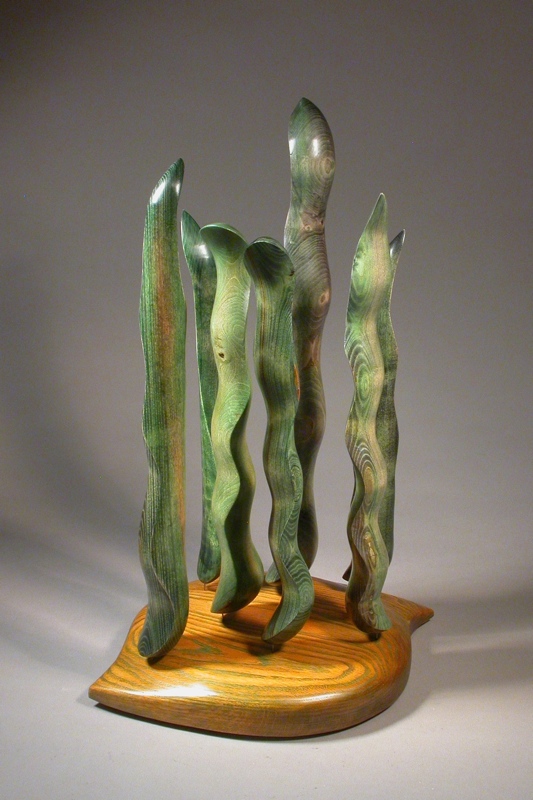 Album:

Uploaded By:

Date:

Jan 31, 2013

View Count:

1,154

Comment Count:

0

EXIF Data

File Size:

164.5 KB

Mime Type:

image/jpeg

Width:

533px

Height:

800px

Aperture:

f/6.4

Make:

NIKON

Model:

E4500

Date / Time:

2013:01:30 20:06:05

Exposure Time:

1/15 sec

ISO Speed Rating:

ISO 200

Focal Length:

9.8 mm

Note: EXIF data is stored on valid file types when a photo is uploaded. The photo may have been manipulated since upload (rotated, flipped, cropped etc).