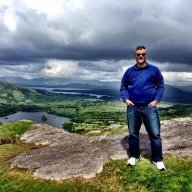 Joined

Jan 3, 2021
Messages

67
Likes

26
Location
Hello fellow turners-As I'm getting started with bowl-turning, I'm in great shape for blanks, as my youngest son works for my next-door neighbor, a local arborist who has a real eye for beautiful wood. I asked them to bring home any interesting wood they can (crotches, burls, nicely-figured pieces, etc.), and am rapidly accumulating a nice stockpile of maple, black walnut (my favorite!) and other local hardwoods for potential future bowls. I AnchorSeal the ends of the various-sized logs and have them on pallets in the crawl-space of my house. They are in between the door (which I usually keep propped open to keep moisture levels down anyway), and two vents, so air-flow is good, and there's a heavy duty plastic vapor barrier on the ground, so no ground moisture to worry about.

My problem is labeling them; I think species and month/year is probably good enough. I've tried various tapes and markers, but nothing really seems to stick to wet wood and bark, and you can't sharpie over AnchorSeal.

What do you guys do? I'm thinking of getting some type of luggage tag or plastic sleeve that I can insert a label in and staple to the piece, but I don't know. Any ideas are appreciated.

(And yes, obviously I have to turn both of them something nice with the wood they've donated. I already have some green-turned bowls from their gifted wood that might make a nice thank you).