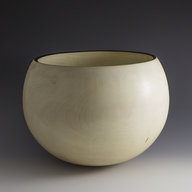 Joined

Dec 23, 2014
Messages

68
Likes

66
Location
Hi, Folks,

I am going to be tackling a floor standing lamp this year, and need to get some equipment to pursue the project. Anyone have experience with the Crown or Hamlet lamp augers versus a much less expensive bellhanger's drill instead? Any issues with tracking straight? Any other advice? I will be using an heirloom piece of wood for the main body, so I can't afford to mess this one up.

I'm turning on a Stubby that has 3/8" through bores in the head and tailstock, and will get the Oneway hollow drive center. I will have to bore through the headstock as I don't have enough clearance for a long drill on the tailstock end, especially with the Stubby bed extended. I will have to drill halfway and reverse the piece to drill from the other end and meet in the middle. I expect to turn the body in two pieces and join them, using a long threaded lamp pipe with nuts at either end to pull the whole thing together tightly.

That's the rough plan. Do you see any flashing yellow lights? Anything you would recommend to make it go well?
Thanks!