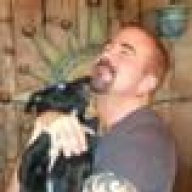 Joined

Mar 19, 2007
Messages

340
Likes

0
Location
Attention New Registering Users
Most new accounts are not approved due to the below rule not being followed:
All requests for membership
MUST
use their real name for the username in the format
First name Last name
, without numbers. No "screen names" will be accepted.
Due to the number of bot registrations, I am only manually looking at registrations that meet the following pattern (first name) space (last name). e.g. John Smith
Registration attempts with a user name that contains numbers, or that otherwise does not meet the above format will be deleted and not reviewed by a human admin.
REVISED:
Bad registrations will no longer be receiving an acknowledgement of failed registration
... this lets the spammer know they have a valid email address and increases my workload, so if you are unable to post or view pictures after registering, you will need to re-register correctly....
Also, please be aware that it can take me up to 4 days to register new members, I do take days off occasionally
and am off the grid, these will be handled when I return, if you have not been activated within 5 days, PM me and I will investigate.
- J