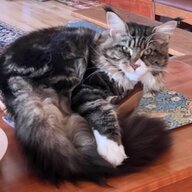 Joined

Nov 27, 2018
Messages

444
Likes

365
Location
Website
So twice now I've had the bolts that hold the jaws on one of my Vicmarc chucks freeze solidly in place. The first time I managed to strip out the hex drive in the bolt trying to turn it and had to drill it out and re-tap the hole. Yesterday I had about four of them where I had to use the small equivalent of a breaker bar to loosten them. I'm not really capable of gorilla strength in putting them on, I just do it by hand with an allen wrench. There's no evidence of any corrosion.

Any suggestions? Do people use some sort of lubricant on them to prevent this? Having to budget an hour to wrestling with these bolts is a serious impediment to changing the jaws!

I did discover that you can buy a packet of 100 of the correct bolt from McMaster Carr for the price of one replacement set from other suppliers.