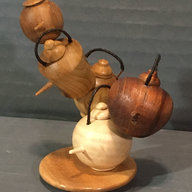 Joined

May 4, 2010
Messages

1,667
Likes

910
Location
I made a half dozen small pieces and accidentally got something on them prior to putting on the finish, in little patches. It could be tung oil or wipe on poly. I didn't notice immediately and by the time I saw it, I couldn't clean it off with either alcohol or mineral spirits. The surface is decorated in another area and I don't want to try sanding the stuff off.

Sorry if this is a dumb question, but I've always used oil OR film, and not both, so this hasn't come up before. If I put some walnut oil on it, can I put a film finish on top of that? Does the oil have to cure first? Could I use spray lacquer or just an oil based poly?

Thanks for your help. I'm glad you all are out there.