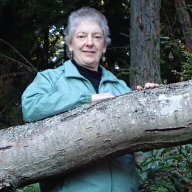 Joined

May 28, 2015
Messages

1,480
Likes

122
Location
I've seen a handful of threads here that immediately made me think of my two "go to the grave with" books for woodturning (not that there aren't others in the shop library). They are:
The Art of Turned Bowls
by Richard Raffan -- great for understanding design, self-evaluating your product, and getting ideas when you're stuck in a groove. Amazing illustrations and photos; good basic instruction on cutting blanks from raw wood too.
Fixtures and Chucks for Woodturning
by Doc Green. Great all-around book for mounting things on the lathe, very practical (some DIY), good illustrations
I recommend these two books "for starters" for any students who are serious about woodturning, especially (in the case of Doc Green's book) if they are turning at home and want to understand options for mounting various projects.
Would love to know what books you have that you could not live without!