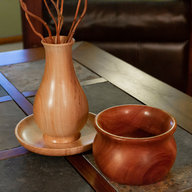 Joined

Jul 30, 2021
Messages

99
Likes

33
Location
I'm in the market for a band saw. I'm trying to keep the price below $1500, so that probably limits me to 14" bandsaws. Initially it'll most likely be used to round blanks and cut up pen blanks, but resawing and maybe even segmenting for pen or bowl blanks is definitely going to be something I'll be doing in the future.

I was originally set on the Powermatic PWBS-14CS, the 100th anniversary edition. One, because its Powermatic. Two, because its cheaper than the non-anniversary edition that is otherwise exactly the same thing. :shrug: I think the anniversary edition comes with all the nice addons including the roller wheels. I ended up not actually pulling the trigger, though, due to finding a rather mixed bag of reviews. I'm curious what people here think...Powermatic used to be a very solid brand, and the name alone spoke of the quality. It seems since about 2017-2018 or so (maybe before, but that was roughly the timeframe when I seemed to start finding mixed reviews), that may no longer be the case... Still, the package deal is pretty nice, and it seems there are some things that are more convenient with the powermatic.

In a number of powermatic reviews, people seemed to speak more highly of their Grizzly bandsaws, such as the Grizzly G0555XH, especially for its power and resawing capabilities. That kind of surprised me, as I don't generally trust Chinese manufacturing...too much of a crap shoot. I'm curious, though, what other people's experiences are. IS it a crap-shoot? One of the appealing things about Grizzly is for the price, they usually offer more power (maybe a good deal more power, i.e. 1.75HP vs. just 1HP), which should help resaw capabilities I'd think, and maybe even a larger swing.

I have a number of Jet tools already. So far, I actually really like my jet equipment. I use my drill press almost every day, and its been great. Simple, not a ton of features, but it gets the job I need done and does it well, does it reliably. Same goes for my air filter. The Jet 14" bandsaw seemed to be over $1600, so originally it wasn't on my list...but, I'd rather buy once and cry once, than anything else... That said, the reviews on Amazon indicate that these things have shipped with a lot of paint chipping, scratches, gouges...and in some cases broken parts. Peoples reviews of customer service were lackluster...
Last edited by a moderator: