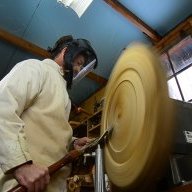 Joined

Dec 6, 2005
Messages

63
Likes

1
Location
Website
I'd appreciate some help identifying this piece of wood. Up for a mystery? Here are all the clues I can pass along.
A friend recently returned from a camping trip to Southern Utah. She was camping in Forest Service/public campgrounds and found these two pieces of wood left at an adjacent campsite. Being surrounded by pinyon pine and juniper (and not being a woodworker), she assumed it was one of those--it is definitely not. In fact, it's certainly a hardwood. Quite dense and no visible pores.
The red coloration is from oxidation of the heartwood; the sapwood doesn't react, at least not much. I cut the smaller piece open and the fresh wood is light brown. I'm assuming interlocked grain--I hit the cut face with my jack plane and the grain wanted to tear, no matter which direction I approached it from.
Oh, and no significant odor on cutting.
Having lived in the Great Basin for 15 years, I'm sure this is not a native (like mountain mahogany). Most likely an ornamental someone hauled into their campsite for firewood.
Any ideas on the wood species?
Don McIvor
Twisp, WA