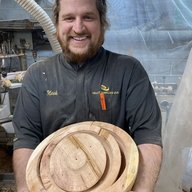 Joined

Sep 29, 2021
Messages

6
Likes

2
Location
Hello everyone!
My name is Nick. I am 38 years old, and I live in Hatboro, Pa since 2009 with my wife, 2 kids and 2 dogs. In 2017, I found an ad on Craigslist for a lathe, lathe tools, and pen making accessories for $80. At the time I was on a FB Marketplace/Craigslist frenzy for buying woodworking equipment. My mind set was to get the price down to $60 for whatever piece I wanted. On occasion, i could go up to $80. But if i didnt get the hardware, then it wasnt meant to be. Yes, this required alot of checking my cell phone, and alot driving. But I got a lot of beginner equipment to get me into the hobby.
At the time, I had no idea how to use a lathe, but it couldnt be that hard to make a pen! Plus, i had remembered that there was woodworking showroom about 10 minutes from me, where they sold Penn State Industries kits and equipment, and an extremely helpful staff. So i went over, bought the lathe, and ended up buy his Rigid Scroll Saw as well! I did the whole Funline Kit and sold a bunch of people on FB I knew pens for $12-$15 each while I learned how to properly turn a pen. Plus, I had the guys at the woodworkers showroom to assist me in my venture. Yes, they were paid to tell me that things they sold were great, but they also did their fair share of telling me what products were crap. When no one was looking, they told me what would work for me, and where to get it at! So yes, I kept going back.
Eventually I wanted to graduate away from this mini lathe. It was 1/3 HP Carbatec Black Mini Lathe. I wanted to challenge myself and turn larger items, So I started looking for a MIDI lathe. Months later, I found a guy in Brooklyn, NY, Selling a Delta 46-046, with the stand, Supernova 2 chuck with 50mm jaws, 6 Robert Sorby Tools, Live centers, dead centers, drive centers, and a safety center, faceplates, a wormwood screw a bunch of hardware and jigs that I had no idea how to use it with the lathe, and finally, about 30 weird looking (at the time) bowl blanks, both for center work and facework….All for $800. This would be my first BIG purchase. After this, I would go from Hobbyist….to serious hobbyist?? If I did this would aIl have to try and make some money of it? But the lathe was in Brooklyn, NY…..fight the NY traffic…could be anywhere from 2-8hours each way… What happens if he flakes out and not available when I get up there? What happens if a crime is committed against me?... I would be carrying $600…
But then It comes to light that the man in Brooklyn ,NY with the lathe is working in Fishtown, a (not-so-great) part of Philadelphia… in 6 days, which is about 30 minutes from me! Oh joyus day! He is willing to bring the entire package down here! Not only is this great for the above reasons, but the lathe is also the one that I really had my eyes on! Considered top of its class in MIDI lathes, 1HP, variable speed, forward and reverse! 250-4000 RPM. This was too good to be true. How did I stumble upon this? Who am I to get this deal? If it all went down the way it should, it should mean more to me than just getting a lathe. Maybe the universe telling me that this is absolutely what I should do… Having bad A.D.D my entire life, I usually spend about 2 weeks completely engrossed in a topic, before decide to completely switch tracks and engross myself in another topic for another 2 weeks. I usually wrap back around in that former topic months later. But woodturning has truly captured my interest. This is the first time in my life that I have been able to spend more time on the same topic.
So going on that feeling, and the fact that this Brooklyn Delta MIDI-Lathe deal is about to happen, things were truly lining up. The Sale went on with a hitch! The lathe had barely been used, as did all the accessories. He probably bought it thinking he would be able to start that hobby, but life got in the way. That was in early 2019.
Now my wife has started helping me run my business. I am teaching her how to rough turn bowls… safety, mounting them, how to cut, where to cut, how to stand, grain structure, etc. She is enjoying it so much, that I couldn't turn, So I had to upgrade. I now run a Nova Orion that I bought 2 months ago. You have no idea how hard it is to find a full size lathe over 18" throw in this climate! I had to buy the floor model from the Woodcraft store. I just recently had 240V installed for the Orion (runs 1.75HP@ 120V AND 2HP@ 240V). My biggest challenge now, which is a huge one, is getting the cores using the Mcnaughten Center Saver to give me equal thickness blanks!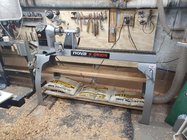 The Nova Orion (Still running 120V)
----------------------------------------------------------
My first big investment. I added the bed extension and the extension legs. We now call this one my wife's lathe.
-------------------------------------------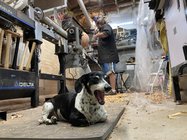 Our Shop Companion. She is tired. That's me in the background on the Orion.
---------------------------------------------------------

My wife busy at work for us. This is before we got the Orion. All i could do was sit back and watch her turn. Help her when she needed it, which was alot. She cant get past the part were your enture body moves with the cut.
--------------------------------------------------------------------
Now here is some work I did...