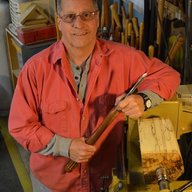 Joined

Apr 26, 2004
Messages

7,703
Likes

2,327
Location
I don't normally sharpen my blades. I buy really cheap ones from my local saw sharpening service so it's kind of a waste of time. I buy 163" 1/2" blades for $12 so I usually just toss them. However I dulled the blade badly cutting a log of green walnut and it was late Friday and I needed to cut some more before Monday. so I tried a couple of things. First I simply jointed the tips of the teeth. I simply ran the saw backwards by hand and held a diamond hone against the teeth. to test it I resawed an 8" piece of 2x8 pine. It seemed to cut fairly straight now but left a rippled surface.
Then I went in and used a diamond chainsaw sharpening cutter in my dremel and sharpened the gullet of each tool. That's 460 teeth so it took a few minutes. I put a piece of tape of the blade so I new where i started and sharpened all the gullets of teeth that were angled right. Then went back and did the left facing teeth and then the center teeth. Don't know if it would have been easier to simply cock the dremel and sharpen each tooth as i go instead of doing all the ones pointing in the same direction. Anyway, when I did the resaw test it cut very aggresively but still stayed straight. It left a very noticeable ripple pattern that would not be good for resawing veneed but the speed of the cut would be good for cutting green wood.
I went back and jointed the teeth again this time using an old oil stone and spinning the wheels quite a few times. The cut was very slow when I did the test but left a very clean even surface. So it seems to me if you just want to cut green wood sharpen the gullets. Don't mess with jointing the blade. If you want a better quality cut for resawing veneer then you probably need to do both.
Anyone else sharpen and if so what technique did you use. Ideally of course just buying a good quality resaw blade is the way to go but then I would not use that for cutting green wood. Too easy to get a catch and bend that good blade which is why I use the really cheap ones.