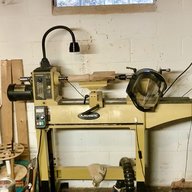 Joined

Feb 26, 2021
Messages

53
Likes

27
Location
Website
I'm having a problem with my Powermatic 2014 that I'm hoping one or more of you can help me zero in on. I've seen posts with similar problems on other lathes, but not on mine.

I was doing some spindle turning, and had just tightened the tailpiece. I turned the lathe on and heard a "tick tick tick" sound, so I turned it off and looked inside the headstock. The sensor collar was wobbling, so I loosened the set screws, straightened it out, checked for interference with the sensor, and started it again. Sound was still there.

I disconnected the belt and spun the spindle by hand to make sure the sound wasn't from the motor. It was definitely in the spindle, once per revolution. Next I checked to make sure it wasn't interference between the spindle pulley and the case or index pin.

i found a post here regarding a similar problem with a Jet that turned out to be a split collar that was rubbing on the case. There's a stop collar inside the headstock that I would have to remove the headstock and place it on the floor (difficult with a bad back) in order to access from below, and that's my next step unless someone has another idea.

Also- is there an actual service manual for this machine? It's under warranty, but if there's an easy fix that didn't require me hauling it to my dealer, that would obviously be preferable.