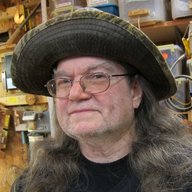 Joined

Dec 22, 2006
Messages

5,729
Likes

2,653
For this week's TOTW, I've chosen James Seyfried's Ash Platter. James is no stranger to these AAW forums, and is well known for his excellent large footed bowls. As I see it, this is a great example of the "feather" he describes. (Isn't that a beginning of a crotch?) The best side is exposed in the top of the platter. (Tell me, James....by viewing this piece from the endgrain, do you have a "horseshoe", or "rainbow" orientation of the grain?) Whatever it is, you chose well!
I've always been a fan of finely executed turning, which exposes Mother Nature's great figuring in exceptional pieces of wood.....and, this one does it nicely, without the need for embellishment, or highly detailed lathe work.
This is what James has to say about it:
"This is a 17 ½" Ash platter, it sits about 1 ½" tall and just under ½" thick. I dried this piece for a couple of years after roughing and a heavy coat of Anchorseal, thinking that it might help keep the feather from cracking. The foot is dovetailed on the inside so it could be hung in any direction. This is still a work in progress as I plan to make a revolving base."
-----odie-----