Falling Gingko Leaves
I decided to take a break from metallic colors for a while and do some piercing while staying with the Oriental/Asian theme Ive been working with. The base was branded but I added a second brand to the pattern Ive been using. I made a third brand reflecting the outline of a Gingko tree leaf and applied it to the center ring and lid in a random orientation. The lid handle also has a Gingko brand. The center ring of the base, lid ring and lid handle were then textured around the Gingko leaves. The lid demanded a great deal of time. It had to be turned thick enough to support the inside lip, beads and texturing on the outside ring yet be consistently thin (1/16) for the pierced section and thick again for the beaded base for the handle. After a test piece I found using an inside and outside template worked best to insure the lid would meet these requirements. After turning the lid I branded the Gingko leaves and hand burned the pattern inside the outline. I then pierced around the leaves in a random pattern. The branded and textured sections were finished in black and the rest was lightly stained and the entire piece was then sealed. Your comments and critiques are welcomed.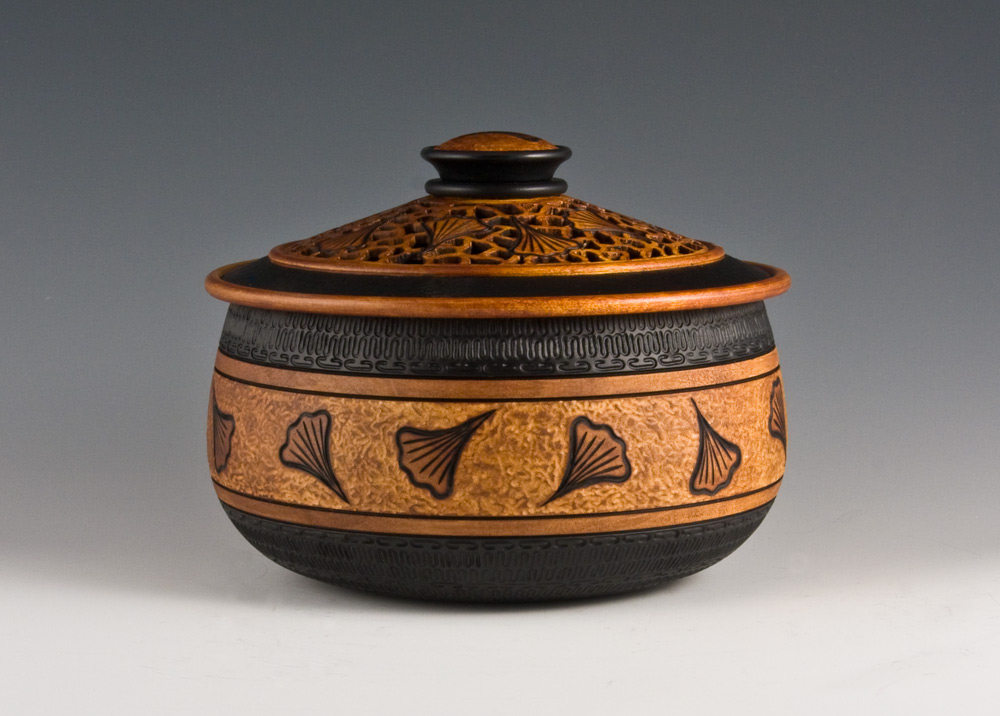 Category:

Uploaded By:

Date:

Dec 10, 2010

View Count:

2,937

Comment Count:

13

EXIF Data

File Size:

151.6 KB

Mime Type:

image/jpeg

Width:

1000px

Height:

716px

Note: EXIF data is stored on valid file types when a photo is uploaded. The photo may have been manipulated since upload (rotated, flipped, cropped etc).