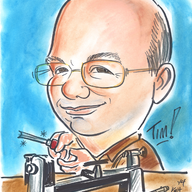 Joined

Jan 13, 2022
Messages

107
Likes

61
Location
Website
The cedar I used was the excess after I cut a log into 2 blanks. It came from our town's woody waste recycling facility. Residents dump their woody waste, the borough turns it into wood chip mulch, which the borough residents can take for free. Load it yourself, though...

The other three pots are from wood-by-the-pound from my local Woodcraft. Not sure what they are, if anyone has any idea - let me know, please. I have one more small cedar one, it got knocked off the back of my saw and went somewhere, I was not able to find it with a quick search. I suspect it is under something back there.

The cedar pots and vessel have no finish, and were sanded up to 1000. The other three have a shine juice finish. The other picture is 5 remaining blanks for pots that have been more or less roughed and had a tenon turned so I can grab them in a chuck. Maybe I will video making one of them and share that.