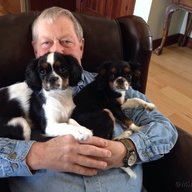 Joined

Mar 19, 2016
Messages

786
Likes

666
Location
I have been practicing piercing. My first piece I thought I turned thin enough, but not really. I did pierce it, but did it ever take some time. This is elm about 7" tall and 3-1/2" wide. Again first piece.
The second piece I made a bowl as it was easier to measure wall thickness. This piece is cherry.

So then for the third piece I did another hollow form about the same size as the first piece, paying much more attention to the wall thickness. Turning went fine. I cut the tenon off, however when trying to put the foot on the bottom I had a catch. That spelled disaster. This is pear and yes there is a tight crack that may have played a part, but I could have come up with a different way to put the foot on.


So I may turn a sphere, use my woodburner to darken the breaks and call it a natural edge piercing piece. I stuck a scrap finial in it, but a sphere would be better if I really did this.

I consider all of these pieces practice and do enjoy the challenges that piercing presents. Just having fun. My next turning is not for piercing, but will line up one after that to see if I can do one similar to the one that broke.