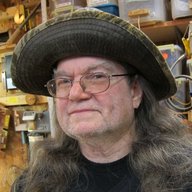 Joined

Dec 22, 2006
Messages

6,502
Likes

5,955
The best place for your turning tools, are as close to the post as is practical.
Those long tool rests are great, when you need them.....but use their advantages wisely.
To make the point, imagine a tool rest a yard long with a single post. If you are turning at the very end of the tool rest, you are going to get some visible and noticeable flex. The same principle applies, no matter how long the tool rest is.
......Soooooo, the rule that should apply here, is to turn close to the tool post, if the option is available.
-----odie-----