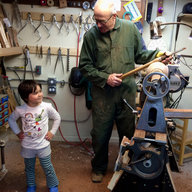 Joined

Feb 8, 2014
Messages

1,099
Likes

526
Location
I was asked by Brent English if I could help a nearby family of a recently deceased woodworker. I am only listing the lathe and it's related accessories as an entire package. There is way too much stuff to sell it in bits and pieces. A buyer will undoubtably end up with un-needed things, however getting it all out at once will be best, and any buyer can sell off pieces as needed.

This machine is in mint condition and has seen very little use, very low running hours. There are more than six years left on the warranty.

The machine and accessories are located in a ground level garage. There are many things in boxes on, or near the machine. What follows is a partial listing of what will be included. Some of it is unused or in unopened packaging.
23 assorted hand tools, some by Sorby and some Benjamin's Best
Calipers & Dividers & Dial calipers
Heavy Duty Casters (Not Robust brand)
24 piece 1-1/4" Collet set
Oneway Stronghold chuck with 4 jaw sets
2 Oneway faceplates, 1@ 6" & 1@3"
3 additional aluminum faceplates
1 heavy solid steel 12" faceplate (unknown brand)
1 off-center jig
12" & 15" Robust Comfort Tool rests
Beal 1.25" thread tap
#2 morse taper extender
Additional odds & ends
Sorby Pro-Edge Sharpening System
Original Invoice details:
Terms Due Date 6/15/2021
Ship Date 9/1/2021
101 E County Rd ID
Barneveld WI 53507
608-924-1133
info@turnrobust.com
Qty Item Description Rate Amount
1 7,595.00 7,595.00 AB-SD AB Standard Bed 2HP
1 330.00 330.00 AB-3HP 3 HP Upgrade for AB
1 37.00 37.00 AB-HSD Headstock Limit Switch Disconnect
1 850.00 850.00 AB-TILT Tilt Away
1 149.00 149.00 AB-GAS Gas Shock Assist For AB-TILT
1 129.00 129.00 LA-OFF Remote Foot Operated Off Switch
1 49.00 49.00 AB-TC Tool Caddy
1 109.00 109.00 LA-VAC Vacuum Adapter
1 79.00 79.00 15-CR-LO 15" Comfort Rest Long Post
9,327.00
Check payment discount Check Payment Discount -3.00% -279.81
shipping Shipping 392.56 392.56
$9,439.75
Brent English noted that current pricing on this package is $10,920
Selling for $9,200
Buyer takes all.
Pickup in Glencoe, IL
Last edited: