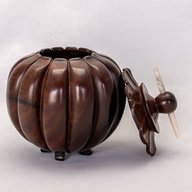 Joined

Oct 1, 2008
Messages

502
Likes

839
Location
Some years ago I came across Tantung steel which according to the blurb is in between HSS and TCT and can be ground by conventional grind stones. Then I ran across a comment by Robbo Hippy about its edge holding ability, something along the lines of "sharpen it in the morning and all turn all day" now that intrigued me. I picked up a piece 6mm square by 75mm and made up a simple Oland hollower out ¾ shaft results were very good. But at the end of the day its was a scraping type action and I was after a more durable slicing edge.
I teamed up with Neil Strong from Adelaide SA in order to make a few Tantung tips like the Woodcut variety for both of us. I would make them and he would run the test regime and write up the results. It had to be done over the net as we live 1500k a part or 850 miles and or about 16 hours drive. I would run a few tests and add to his outcomes where I could. My set up is quite simple I converted the 4" grinder into a tool post grinder for my ancient metal turning lathe and by the look of it, it would be close to 100 years and due to dark green paint I would say it was a veteran of WW2 to boot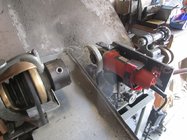 In order to get around high speed of the portable grinder, I decided to use the 1mm cutting discs grind a series of 1mm groves close together down somewhere near the finished dia and then change to the grinding disc and finish grinding to as near the required dia as I could. I looked at variable speed drive but on single phase low rpms also means low HP or watts and at the rpm I wanted it would have been gutless. Later went on to use a conventional friable wheel to try and get a half decent finish, all in all the entire outcome wasn't ideal but under the circumstances it was good enough to do some serious testing.