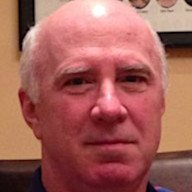 Joined

May 25, 2019
Messages

637
Likes

844
Location
Website
I've made hundreds if not thousands of tenons in making bowls and vases. It's my primary mounting method. I seldom have an issue with one that I can't get to true up after taking it off the chuck but sometimes as you likely know, once you take it off it can be a bit tricky to remount it to spin dead true. It might take a bit of fiddling to get it true on a second mount.

My challenge has been with making sets of dinner plates lately. Something I don't do very often and where spinning true is critical for detail work and curves / plate faces that match and are clean. I put a shallow tenon on each side of the blank so that I can flip it back and forth a few times as I work through the production steps for each plate. In my recent plate work I could not get a consistent mount from one face to the other. I would create a tenon, not very deep, make sure it was as clean and true as I could, flip the blank over, and put a tenon on the other side. As I flip the piece over to perform a step on the other side the piece would not spin near as true as I expected and the tenon now on the tailstock side would be off center a bit. Sometimes barely, sometimes a lot. I fought back and forth for a long time trying to figure out what was wrong and finally just muscled my way through. It's the only thing I turn where I have a tenon on both sides of the piece for a while.

Maybe I'm expecting too much from a 2 1/2" tenon? I have a oneway chuck so the jaw grooves do bite into the wood a bit. Maybe that little bit depending on where in the grain they bite makes the difference? Maybe I should shift to a mortise mounting method for something like this? I also have a Nova chuck with dovetail jaws and a single inside ring for the tenon mount. I found it would be a bit more consistent but still not a fix. Yes I cleaned the jaws, chuck, checked all was tight for the thread insert, clean headstock screw face, etc. Just looking for some experienced folks that might have some insight.

My hunch is that a good sized mortise mount is the right way to do things like this.
Last edited: