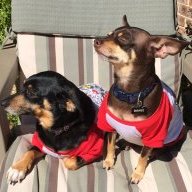 Joined

Apr 9, 2004
Messages

2,687
Likes

89
Location
Website
The following rules apply to the want-ads portion of the AAW forums. If
a want-ad is posted and it is in the "disallowed" list, the ad will be
deleted by the moderators without advanced notice. Want ads also expire after 30 days, at that point they will be deleted. They will also be deleted if the item is sold. This is not eBay or Craigslist and is not intended to be.
The main objective of the want-ad forum is to allow individuals to sell, trade, or acquire equipment, tools, and other such items for woodturning.
Note:
- PLEASE post your
email address
or
phone number
.
- You should also post a description of the item(s), and a photo works a lot better.
AAW Want Ads rules:
a) These want ads are for any forum member.
b) The AAW is not responsible for any content of the ads.
c) Any agreements are between the buyer and seller.
d) There is a 30 day time limit then they are deleted. Once deleted, they are gone forever and cannot be undeleted.
If you are approaching 30 days and have not sold, attach a reply to the original post saying it is still for sale.
e) You MUST post where the item is located, the price and include for pick up only or something about shipping costs.
6) We highly recommend you put the city or location in the title, especially for large items like saws and lathes
What is Allowed or Dis-Allowed?
Allowed items (which are encouraged):
1) Individual want-ads and want-to-buy ads are encouraged. In the
subject line of your item, please indicate "for sale" or "want to buy".
Typical items are tools and equipment. However there are other items
which could come up. As an example, you may have purchased 50 gallons
of wood finish and you want to sell half of it to someone.
2) MUST include contact information, including email, and location (city and state) as well as the selling price (you can state OBO if you're willing to negotiate, but do your haggling offline).
Disallowed items:
1) Commercial ads are disallowed. A commercial ad is an advertisement
for a product or a business where the main objective is a long term
profit on repeated sales. If you have a business and want to place a
want ad thru the AAW, please contact the editor of the AW Journal to
post an ad in the quarterly journal.
2) Sales of services, schools, woodturning classes, and similar items
are disallowed. Similar to item #1 in this list, please contact the AAW
Journal for items of this type.
3) Sales of woodturnings are disallowed. The AAW website cannot be used
to sell bowls, pens, and other turned items. For this type of activity
you need to setup your own website or market your goods thru some other
venue.
4) Auctions are disallowed.
5) No eBay or Craigslist links.
Managing a Want-Ad
Once you post a want-ad it will appear on the forum. Want-ads can't be deleted. If you sell your item, or if the want-ad is no longer viable, then you can simply add a message "item sold" or something similar. Also you can edit your original posting to indicate changes such as "items 3 and 4 were sold, items 1 and 2 are still available".