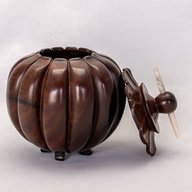 Joined

Oct 1, 2008
Messages

502
Likes

839
Location
I have often thought of getting a couple of these tips but never quite got around to pulling the trigger. Plus I wondered how they might be improved on, given the fact we now have a wide variety of exotic steels around today I thought yes. After all look how long it took Tungsten carbide to get in the woody scene. In engineering I had been using carbide tips back in the 1960's, even made a few for my Dad back then as he was a successful wood turner. So the woody and craft folk are not fast adopters of new technology but that is changing.

I have always been an avid DIY enthusiast, having built my own lathes and much of my turning gear. In the beginning I originally made up several Oland type hollowers, very simple but very effective. Sometime later I was asked to review a 5/16 TCT [tungsten carbide tip] gouge tip. The test was a great success so much so I tried to buy several of them, unfortunately the project never got off the ground with the developer and at this point I was hooked the idea of gouge tips. One of the great advantages of gouge tips is you can heat treatment them to produce great hardness without the concerns over the brittleness of the shaft. As much of what I turn is done with some very hard native trees often with a decent amount of silica. Some well in excess of 3000 on the Janka scale species such as Inland Rosewood , Acacia Rhodoxylon, Dead Finish Archidendropsis basaltica, Buloke or Bull Oak Allocasuarina luehmanni and so on and anything long dead and dry from the Australian desert regions will always give you a hard time.

But it set me thinking about making my own especially as I remembered that I had a few broken end-mills 10,12, and 16mm dia that might make good gouge tips. I came up with the idea to grind the flute by hand with a 4" grinder. It worked fairly well a little challenging to try and produce anything more than a straight sided vee. I wasn't to fussed on the flute design, I just wanted to test the edge holding capability of the end-mill figuring I would worry about the finer points of design later.