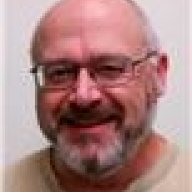 Joined

Jul 5, 2015
Messages

150
Likes

651
Location
Well, I have been using the Osmo Polyx for about a month now and really like it. I bought the gloss version, which I think is relatively new. In my tunings, I generally produce three levels: 1. Matte/satin: pure oil only, (walnut or tung), not buffed. 2. Semi-gloss: pure oil plus Beall buffing. 3. Glossy: either oil/varnish blends like danish oil, or oil base poly, or sometimes lacquer, or sometimes water base poly, all with multiple coats, sanding between some coats, followed up with Beall buffing. I find glossy coatings sell the best on my artistic pieces. Osmo is similarly glossy, perhaps not quite as glossy as the varnishes or lacquers, but what I like is that it produces high gloss without the large build-up of layers like with poly or lacquer.
1. First of all, a little goes a long way. I bought the 750 ml can, but the smaller 125 ml can is plenty to fully explore the finish at a more modest price. The small can will cover dozens of bowls.
2. I used a flat "story stick" with each side sanded to different grits, plus other options like wet sanding and the use of sanding sealer. This was only partially useful. You really have to use it on bowls to make sure. With my story stick, I could not see appreciable differences with Osmo on top of sanding grits between 320 and 800 grit. On bowls, I think finer is better, at least go to 400 grit.
3. Although most people say that Osmo is supposed to be applied to bare wood, I have had no problems in putting Osmo on top of other finishes. I have done one piece with sanding sealer and a couple with walnut oil. No issues so far. This is big for me because I like to wet sand with walnut oil.
4. I am still experimenting with application method. I use the white scotchbrite pads, those are good. I haven't decided on how long you wait ( 5 minutes vs 20 vs both 5 and 20) before wiping off the excess. Some guys say to wipe off with another scotchbrite pad, others say cloth, I prefer cloth at this time. Also, do I just wipe the piece dry or do I really scrub it dry? I tend to not scrub. I am amazed at how thinly you can apply the Osmo. I can just use the scotchbrite pad to wipe off the chopstick I am using to stir the can, and that is enough to coat 1-2 bowls.
5. Two coats is usually enough. End grain and/or porous woods might need 3-5 coats. I have this one walnut crotch platter that has given me fits, as some areas suck up the finish more than others. Over the last two years, I have added countless coats of oil base poly, danish oil, different application strategies, steel wool, scrubbing, you name it I finally decided to remove the poly and try Osmo on it. Two coats of Osmo everywhere and 4 coats in the problem areas worked like a charm.
5. A few days after the second coat, the surface still shows some evidence of streaking (wiping marks). My best results are to do a total wipe down at this point with steel wool for a satin sheen, or proceeding to Beall buffing. I skip the coarser tripoli wheel and just do the white diamond wheel (actually I prefer Vonax over white diamond) This is equivalent to my best gallery quality pieces with multiple coats of oil base poly or lacquer. But Osmo is so much easier to apply.
6. Repairing the finish is a great feature. I have had more than a few examples where I thought I was done sanding, only to apply some coats of varnish and then discover some scratches that were not removed properly by finer sanding. This is difficult to repair with conventional poly without complete removal of the varnish and starting over. Osmo is quite easy to just do a spot repair.
7. I have noticed that inlays may end up with a different sheen than the rest of the wood. I had one piece with some voids, I filled them with CA glue and sawdust/coffee grounds. After sanding to 600 grit, 2 coats of Osmo, then steel wool, then Beall buffing, the piece looks great. But if you hold it up to natural light, and shift it around to get different angles, you can see that the sheen of the bare wood is not quite as shiny as the CA glued areas.