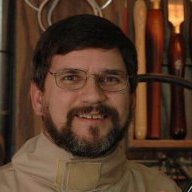 Joined

Jun 10, 2004
Messages

792
Likes

7
Website
Those beer aficionados heading to Richmond over the next 48 hours might want to check-out the following web site which gives an overview of various beer-related establishments, etc. to enhance their imbibing experiences in Richmond, in addition to those experiences sought about woodturning:
Go to:
http://beeradvocate.com/beerfly/city/72
Local Brewery:
The
Legend Brewery
is located just south of downtown (across the river via the 9th Street bridge) at 321 West 7th Street, and is a regional brewer of a range of craft beers, from various ales and barleywines, as well as a few lagers. See:
http://www.legendbrewing.com/
These apparently are available from a number of local sellers, and the Legend products are noted as being a 'must try' while in the area. The Brewery conducts tours each week at 1 pm on Saturdays, which unfortunately is right in the middle of Symposium demonstrations. Although I likely will not go to the brewery, I intend to sample Legend products thoroughly during my stay in Richmond!
Notable Brewpubs/Drinkeries:
The
Capital Ale House
at 623 East Main Street is also withing "striking distance" from the three main AAW hotels and the Convention Center. This establishment boasts at least 40 taps and an offering of over 200 bottled beers. Go to their web site to get a 'flavor' of what might be expected there...
http://www.capitalalehouse.com/index.php
....I also intend to visit this place AT LEAST once while in Richmond!
I am looking forward to meeting many of you at the Symposium, and hope we can tip a few together!!
Cheers!
Rob