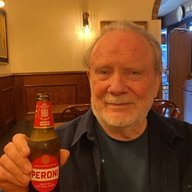 Joined

Dec 2, 2011
Messages

53
Likes

4
Location
For Sale is my Trend Airshield excellent with custom battery cradle and an outboard charger. Please check the link below to read about the custom battery cradle I built and the charging unit used. The cradle is crude but with the charger it works much better than the Trend wall wart charger. The red charger was purchased from Amazon and what I like about it is when the battery is fully charged the light changes to green indicating charging is complete. The OEM charger from Trend does not indicate when charging is complete so the battery can be overcharged and there are stories of this happening which destroys the battery. If you have two batteries one can be in use and the second can be charged and ready. If you have one battery, as the one included with this airshield, a full charge is complete within two hours versus up to ten hours with the Trend wall wart charger. In testing the effectiveness of the charged battery I used the little plastic device with a small ball inside. Placed inside the airshield as instruced and when it is turned on, the little ball shot up to the top immediately. You can see this plastic device in one of the pictures. With the OEM wall wart charger, the ball never moved.
In addition to the custom battery cradle and aftermarket charger, there is a 10 pack of face shield protective sheets. All original paperwork is included as is the carrying plastic bag.
Price is $285 with free shipping. PayPal only. If interested in purchasing this Trend Airshield, please let me know and I'll provide my PayPal ID. Thanks.
Below is the thread I wrote about building the battery cradle etc.
I will say this, the cradle and charger do a much better job of charging the battery to a full charge and in about 1/5 th the time.
It may not be pretty but it sure works well and takes the OEM wall wart charger out of the equation entirely.
My Trend Airshield was not in use for about three years. I bought it in mint condition but the battery was completely discharged. I decided to treat the battery as a new one since it was fully discharged so the first charge with the wall wart stock charger was about 12 hours. That was...

www.aawforum.org