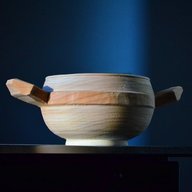 Joined

Dec 30, 2022
Messages

10
Likes

7
Location
Hello All,

It's taken my a little bit to get the time to sit down and write a hello, but I'm glad to do it now.

I'm a Greenwood Worker who up until very recently turned exclusively on a pole lathe. I started traditional greenwood working about ten years ago, carved spoons and bowls for a few years, and then discovered the pole lathe and was totally home. I have turned and taught pole lathe turning for the last eight or so years. I've supplemented my income with this type of turning, as well as other traditional woodworking, for a long time now and also spent six years working with Lie-Nielsen Toolworks running their customer service department until about a year ago. Woodworking and turning has been my main focus for almost ten years at this point.

I've started to experience some physical issues that have made long hours of turning on a pole lathe more and more taxing on my body so I recently picked up a used Oneway 1224 that has allowed me to continue to production turn without the physical stress on my body.

I grew up surrounded by turned vessels and bowls made by my uncle who is a turner. His name is Phil Pratt if anyone remembers him from his turning and video work with the AAW. He has been a great resource in my transition to the power lathe.

I'm really enjoying learning to translate my work to the power lathe and to gouges rather than the pole lathe hook tools I'm used to, and I'm thankful to have these forums as a resource.

Attached are some photos of my work from my pole lathe, and a photo from last summer when I was teaching down in NC and got to work with Roy Underhill on turning bowls on a pole lathe rather than spindles. I was surprised that he had never turned a bowl on a pole lathe, but unsurprisingly he picked it up quickly.