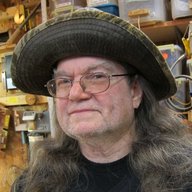 Joined

Dec 22, 2006
Messages

6,502
Likes

5,955
Another great idea Odie.

Hey, do you ever misplace any of these jigs in your shop?? I find that all my "timesavers" need to be organized or they end up costing me more time looking for them:mad:!

my rule of thumb: I don't allow myself any horizontal spaces closer than the area to properly store the tool / jig. ... but still I will find forsner bit caps on the drill press and drill bits on my stool after a weekend of work

.

Tom
Thanks, Tom......
I wish I could say I never misplace anything, but it's seldom!
Thanks to my Dad (RIP), I'm a very organized shop keeper. He was a little over zealous in keeping a everything organized and spic'n'span, but he did teach me the value of having a place for everything, and everything in it's place. It's not that difficult to initially become organized, but it must be followed up by putting things away when you're done, each and every time.......that's the trick!
In these two pics, you can see that I've hung the "minimum diameter jig" on a nail close by to the lathe. Easy to get at whenever it's used. That's the idea behind putting a little loop of rope on many things.......to hang on a nail, or hook.
Later, friend.......
ooc